Gov. Jan Brewer announced Thursday she is endorsing Mark Brnovich in the attorney general Republican primary.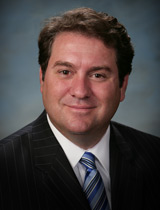 "It has been my experience that doing the right thing often means doing the hard thing," Brewer said in a statement, according to The Arizona Republic. "That's why I look for candidates with the courage of conviction to stand for Arizona and who are willing to stand up against the Obama administration. Mark Brnovich is that type of candidate and that is why I am proud to announce my endorsement…in the race for attorney general."
Brewer's detachment from Attorney General Tom Horne follows news that the Secretary of State Office had found probable cause justifying an investigation into new election violation accusations against Horne.
Horne also faces an investigation from the Citizens Clean Elections Commission.
The attorney general has denied claims made by a former staffer detailing that office employees used state time to work on Horne's re-election campaign.
Horne was granted a hearing Friday, as he hopes to block an investigation from the clean elections commission.
U.S. Rep. Matt Salmon, R-Ariz., in May urged Horne to drop from the re-election race, saying these legal issues could affect his ability to win. He told Horne he is politically damaged.
Brnovich is the former director of the Arizona Department of Gaming. Previously, he worked for the Goldwater Institute.
The primary elections are Aug. 26. The Republican winner will be facing Democrat Felecia Rotellini, who is running in the primary unopposed.
The Associated Press contributed to this report.